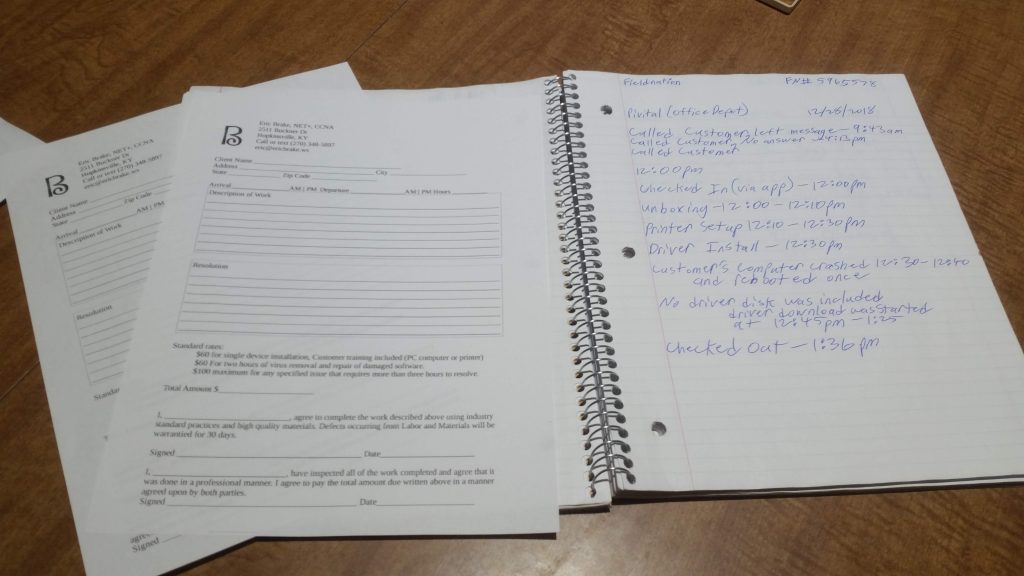 How many times has your computer not been working properly and you call for help from a friend named Jason. Jason comes over, spends a couple of hours working on it and leaves saying that it's been fixed. When he leaves you go and check on the computer and it seems to be working much better. Even though this arrangement will work many times, I think there is a better way. If you are paying money for a service the customer deserves a detailed explanation of the work completed.
In the attached photo the work orders on the left has space to write a description of the problem and below that space for a description of the resolution. The most satisfying work orders I do are ones where there is a defined problem and when I leave there is a defined resolution that fixes the issue. A vague description such as "The computer is running slowly" can have many causes but when I leave it is my goal to find the specific problem and write that clearly on the work order. On the right of the photo is a page of my notes from a past work order. I write notes minute by minute as events happen, so that I can explain what I did and when.
I would also like to say that all of the work I do is guaranteed. That means the customer never pays if I am unable to fix the described problem while I am on site. If the same issue returns within 30 days after I leave I'll come back at no charge.